After about 3 months in the limbo (oh, wait, the church decided to get rid of that) I finally decided to try and bring my beloved 360 back to life. It wasn't an easy task. Fortunately I got the number of a guy who knows how to repair 360's, so I sent mine to him, paid less than what a new game costs nowadays, and got it back good as new. Or so it was supposed. I usually don't have many reasons to complain about the postal service here in Portugal. Except for that one time when a package got lost and only arrived a month later and all beaten up, they're usually reliable. But not this time.
They managed to fuck up the box with my 360 inside so much that they basically put it back in it's original state. Fortunately the guy was kind enough to guide me through the process of re-repairing it, but I was still a pain in the ass. His first guess was that the rubber pads he put on the memory chips were loose, so I had tear the whole console apart until I had only the motherboard in my hands. Guess what, the pads were in place, so that wasn't it. Then he told me to let it on for 20 minutes or so, hoping that the heat would fix something. It did. Or so I thought at first, when the console finally turned on. Guess what, after 15 mins of Sonic Unleashed it froze. Fucking piece of shit...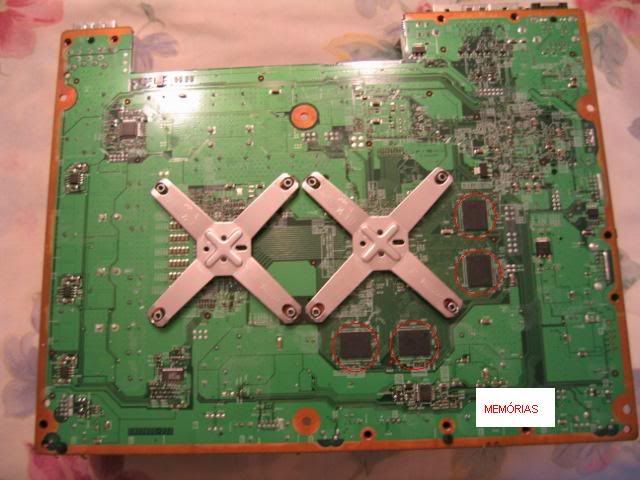 Not my actual board, I didn't take pictures this time, was too fucking pissed to think of that...
Then, when I was starting to lose any hope of repairing the thing, he told me as a last resort to put some pieces of folded paper on the rubbers to increase the pressure. It would be my last chance, if that didn't work than the fucking console would be completely fubar. But wait, by now you're probably wondering what the hell is this about memory chips and rubbers. You see, Microsoft, in a fucking brilliant design choice, put the four memory chips of the 360 on the downside of the motherboard. Guess what's on the opposite side? The fucking cpu, with all the heat it generates. There you have it, memory chips with gravity pulling them down and heat melting the solder that glues them to the board. I don't think you have to be a genius to realize that sooner or later, with the solder melting, the chips will start to loose contact with the board. And, you know, they're like, necessary for the 360 to work. Dumbasses...
That's why you have to put something under them to prevent them from falling apart. And that's what I did, after fucking tearing the whole console apart. Again. Shit... Anyway, for now it's looking good. With this piece of shit you never know, but after more than a couple of hours playing I'm starting to feel confident. So, I guess I'm oficially back to the scene. Right now I'm trying to finally finish GTA IV (already stuck again, with no missions to take. damn...) and Sonic Unleashed, and I just got the brand new Eat Lead. Looking good so far.
Oh, and of course, RE5 is next ;)